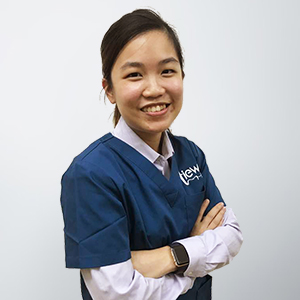 Dr Ong Joe Vynne is a proud alumni of Melaka-Manipal Medical College (MMMC), receiving her Bachelor of Dental Surgery (B.D.S) degree in the year 2015. After graduation, she served the government service at Cameron Highlands, Pahang for a little over a year. Shortly after, she joined ST Tiew Dental Group. She exhibits strong interests in Orthodontic and Esthetic Dentistry. She believes that dentistry is a constantly evolving science, amalgamating itself with a delicate and intricate form of art.
With this mindset, she is constantly trying to improve her work by attending various courses and workshops for the benefit for her patients. She has a very gentle touch and empathizes with those suffering from dental phobia. Keeping the dental experience from her patient's point of view in mind, she does her utmost to create a comfortable atmosphere to change the outlook of the dental office for the patient from a traumatic one to a more pleasant experience.
Dr Ong always has the patient's best interest at heart, providing them with the best care, restoring their smile, and in doing so, their confidence and quality of life. While some might consider her a workaholic, she does believe in work-life balance. When she's not in the dental clinic, she would either be out on a trail hike or curled up in the comfort of her own home with a good book.