Braces KL by ST Tiew Dental Group Sdn. Bhd. is the perfect solution for anyone looking for an ideal smile. Our experienced team of orthodontists can help you straighten your teeth and upgrade your oral health. Our braces come in various types, including traditional metal, clear, and lingual braces. We understand that everyone has different requirements and fondness, so we offer a range of options to suit your unique situation.

Metal braces are the most ordinary type of braces and are made from high-quality stainless steel. They are durable and can effectively straighten even the most complex dental issues.

Clear braces

are admired by adults and teens concerned about traditional metal braces' appearance. They are made from clear or tooth-coloured materials, making them virtually invisible.

Lingual braces resemble traditional

metal braces

but are placed on the back of your teeth instead of the front. This makes them virtually invisible and an excellent option for those who want a discreet orthodontic solution.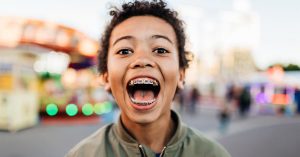 At ST Tiew Dental Group Sdn. Bhd., we understand that getting braces can be a big decision, so we offer a free consultation to help you make a literate decision. Our team will assess your dental needs and provide you with personalized treatment options.
 Don't let bent teeth hold you back from achieving your perfect smile. Contact us today for a free consultation and learn more about our braces KL services.