Are you looking for a reliable and experienced dentist in Penang? Look no further than ST Tiew Dental Group Sdn. Bhd. With over a decade of expertise in providing top-notch dental care, we are your trusted partners in maintaining a healthy and beautiful smile.
At ST Tiew Dental Group, we understand the importance of oral health and its impact on your overall well-being. Our team of highly skilled and compassionate dentists is committed to delivering exceptional dental services to meet your unique needs.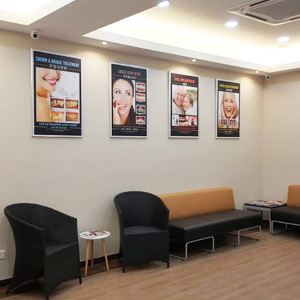 Why Choose ST Tiew Dental Group in Penang?
1. Experienced Professionals: Our dentists have over ten years of experience, ensuring you receive the best care.
2. Comprehensive Services: We offer a wide range of dental services, from routine check-ups to advanced treatments.
3. Modern Dental Technology: We invest in the latest dental technology for accurate diagnoses and comfortable procedures.
4. Patient-Centered Approach: Your comfort and satisfaction are our top priorities. We tailor treatments to your specific requirements.
5. Affordable Options: We provide cost-effective solutions to make quality dental care accessible to all.
6. Convenient Location: Our clinic is centrally located in Penang, Ayer Itam, Chai Leng Park, Penang Island Glades, Jelutong and Raja Uda Butterworth for easy access.
Whether you need a routine dental check-up, teeth whitening, orthodontic care, or any other dental service, ST Tiew Dental Group is here to meet your needs.
Don't compromise on your oral health. Contact ST Tiew Dental Group today to schedule your appointment with the leading dentist in Penang. Your smile deserves the best care; we're here to provide it.