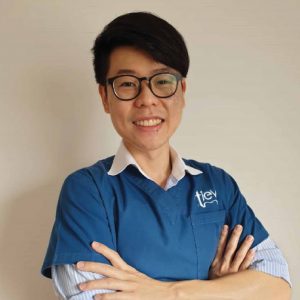 Dr Chen Yung Yee received his Bachelor's Degree from Melaka-Manipal Medical College in 2015. After that he served Ministry of Health in Peringgit, Melaka. In 2017 he joined private sector under ST Tiew Dental Group.
Dr Chen has been trained in Orthodontics (SG), Aesthetic Direct Veneer (AT) and Minimally Invasive Endodontics (Mahsa) since 2018. He also actively participate in learning from various field experts from across the globe ( US, UK, EU & SG ) so as to elevate his dental skills. He has developed special interest in Digital Smile Design and will continue to pursue knowledge and skills in this field.
Dr Chen is a true believer of partnership between dentist and patients in this journey. He has been actively participated in public education and awareness program. He has appeared on Facebook Live session to reach the public and answer their doubts. He also participated in free dental screening program for refugee orphans with like-minded friends. He is planning to reach more educational institutions to maximally raise dental awareness in the country. On personal level, he enjoys making connections to people and networking. There's much to learn from every walk of lives.