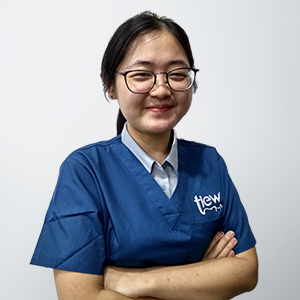 Dr. Chong Ka Mun obtained her Bachelor of Dental Surgery (BDS,Hons) in 2015 from Vinayaka Missions University (PIDC). She began her career by serving the public in Perak before joining ST Tiew Dental Group. She chaired positions in Smoking Cessation and Oral Cancer and Outreach Programmes during. her civil service. With a special interest in orthodontics, she pursued her Invisalign provider license and has obtained multiple certifications in the field such as Comprehensive Orthodontic Courses and Molar Orientated Orthodontics.
She has great interest in expanding her treatment options range and she participated in various continuous profession education in dental programmes particularly in Restorative, Endodontics and Full Mouth Rehabilitation courses to provide the best and safest treatments for her patients.
Dr. Chong believes that a dental appointment is not just a dive into the mouth at first sight, but prefers a more holistic approach involving a thorough understanding of the patient's lifestyle and overall health in relation to their oral health and its' impact to their oral cavity thus providing a more comprehensive treatment plan tailored to accommodate their lifestyles.