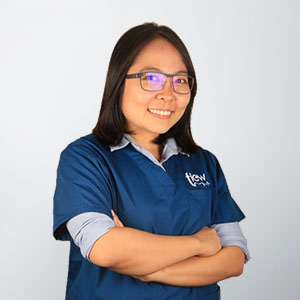 Dr Ng Hui Cheen attained her Doctor of Dental Surgery (DDS) from National University of Malaysia (UKM) in 2013. Prior to joining Tiew Dental Group, she has completed her two years of government posting in Taiping where she honed her skills and accentuates her passion in dentistry.
Dr Ng believes in lifelong learning whereby she constantly equips herself with the latest knowledge by attending seminars and workshops in her field of interest such as orthodontics, aesthetic dentistry, and endodontics. She has completed her orthodontic training by attending Progressive Orthodontic Seminar and she is also a certified provider for Invisalign treatment.
Dr Ng is one of the friendliest dentist around and never fails to make patients feel at ease with her soft spoken and gentle demeanor. Needless to say, she is amazing with the kids as well. With her warmth and calm approach, the young patients are able to discard their fear for dental visits which is a huge sigh of relief to their parents. Apart from being a passionate dentist, Dr Ng enjoys gardening and workout to keep work life balance in check.