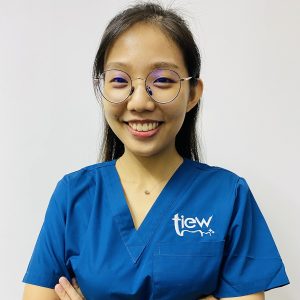 Dr Ng Lai Yi is a qualified dentist who has successfully obtained her Doctor of Dental Surgery (DDS) from University of Padjadjaran. She received a distinction for her work completed during her clinical years. Her journey as a professional dentist began when she served the Ministry of Health, Malaysia in Klang. She has also completed her attachment in the Klang Hospital before joining ST Tiew Dental Group.
Dr Ng frequently updates and upskill herself by attending seminars, courses or workshops. One of the most recent seminars she attended was OROFACIAL DYSFUNCTION & TETHERED ORAL TISSUES in which includes knowledge on oral facial dysfunction and restoration of orofacial muscles back to its normal function.
A true introvert; she is gentle, soft-spoken and compassionate. She strongly believes in providing the best service and treatment for her patients. She is calm and treats her patients just as how she would like to be treated by others while providing preventive, restorative, prosthodontics and laser treatments.