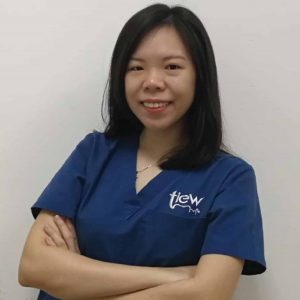 Dr. Tee Yi Ting graduated from University of Malaya (UM) in 2015 with First Class Honours. She enjoyed her government posting in Miri & Limbang (Sarawak), serving the lovely local people and explored the beauty of Borneo. She started her journey with ST Tiew Dental Group in 2017.
Dr. Tee is well-known among her patients for her friendliness & patience. She is motivated to help more patients, both adult and children, in overcoming dental fear and embark on enjoyable dental experiences. Dr. Tee has strong interest in orthodontics, children dentistry & myofunctional therapy for kids. She is a kid-friendly dentist (& kids love her too!). She is inspired to help more children grow up happily with both beautiful smile & healthy body.
When she is not working, Dr. Tee is always learning more in her field of interest to serve her patients better. She is also an artistic, creative & adventurous person, who is equipped with designing skills and loves travelling.